"Buy one plant, get many more FREE fresh veggies."

(Chiengweal , 4th Grade)
Did all the recent sunshine find you daydreaming of the upcoming growing season? We're once again collaborating with Blandford Farm to offer you some unique tomato plants, herbs, and special cucurbit varieties ($3.50 each) for your home gardens or containers. Check out the descriptions below. Use this link to place your order by March 29 and we'll have the plants for you to pick up at school during the week before Memorial Day.
The funds generated will benefit both our WSCS school garden and the Blandford Farm.
Small Tomato Varieties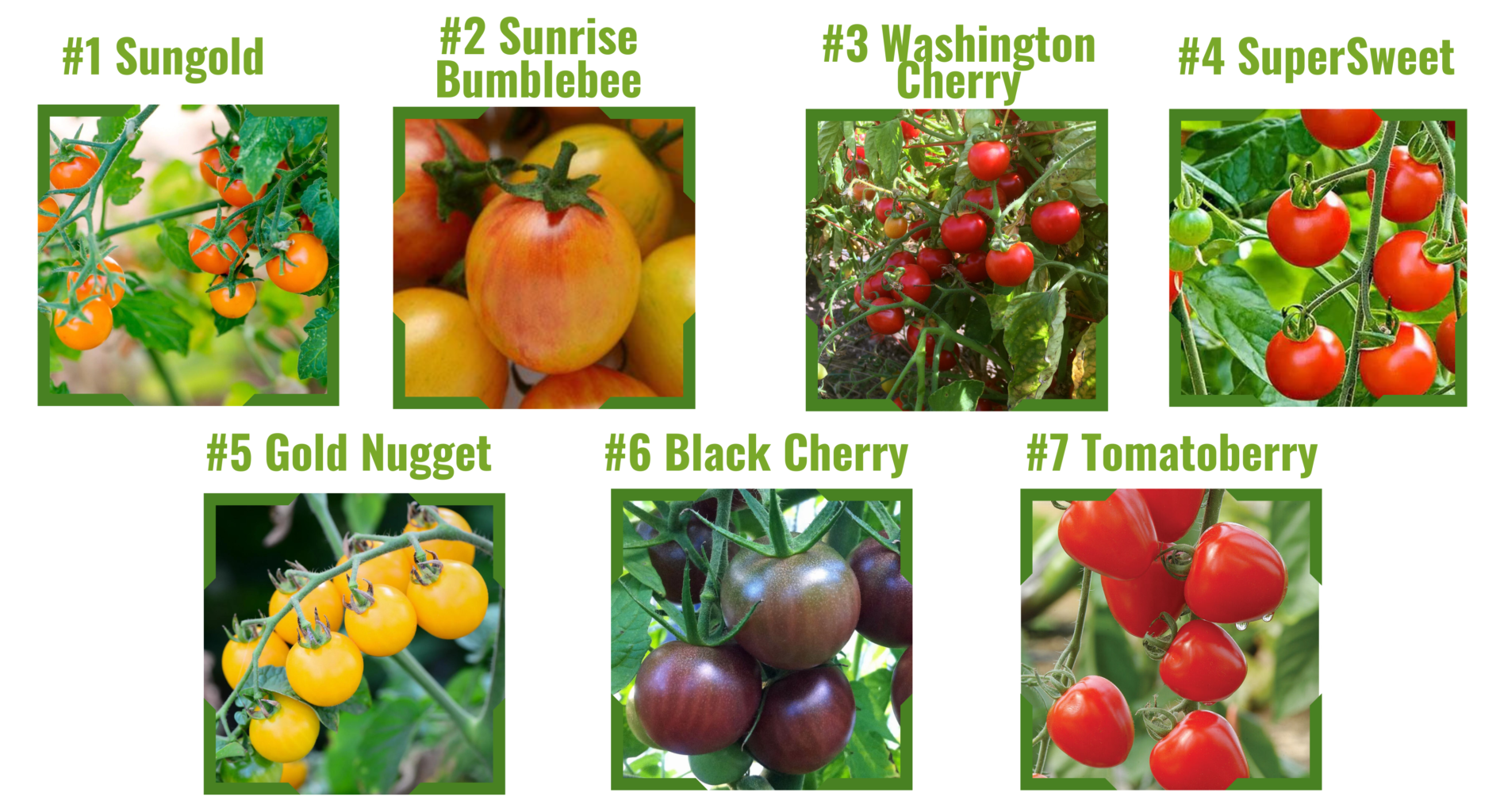 Large Tomato Varieties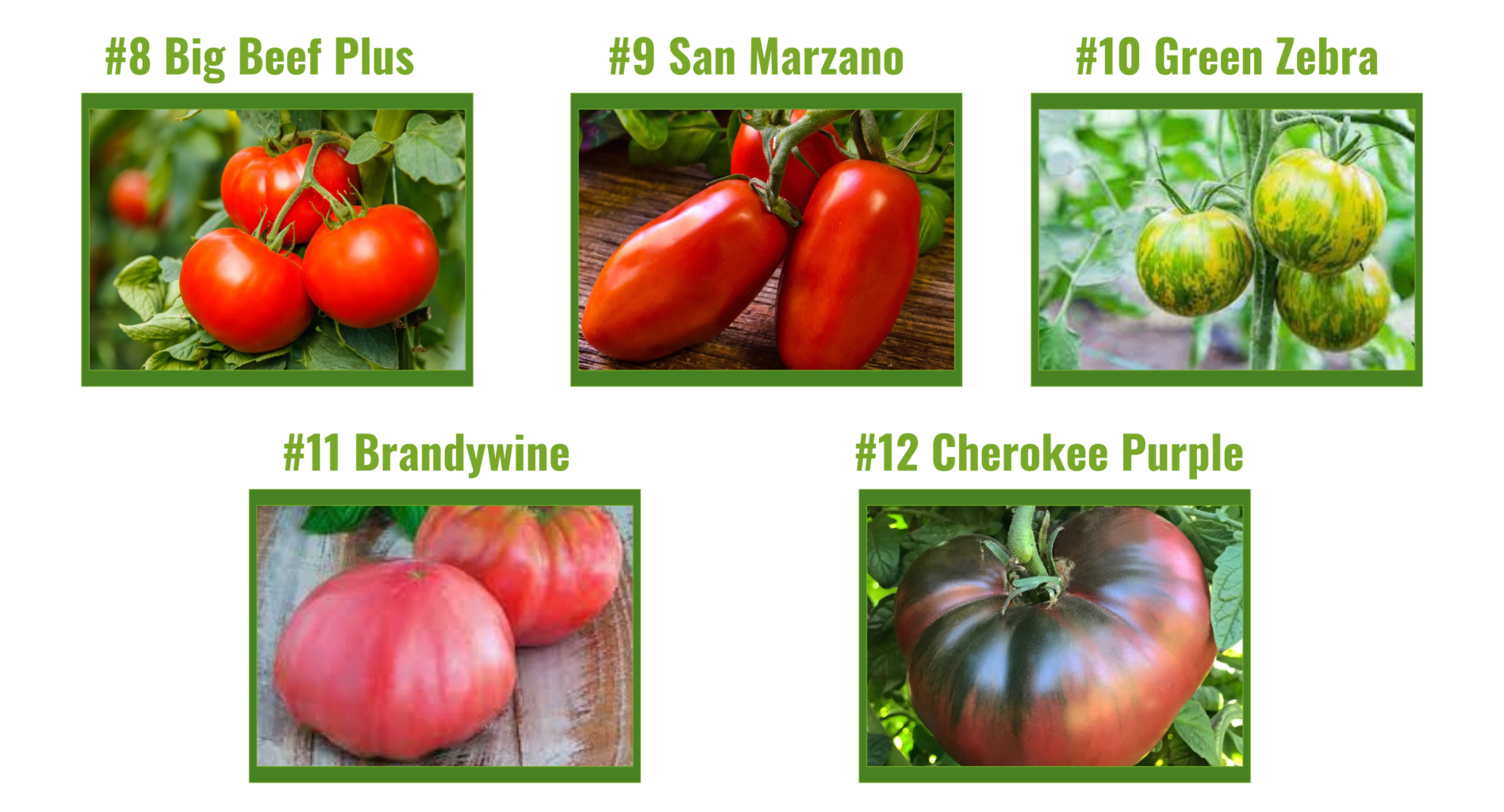 ​​#1 Sun Gold (sister variety to Sunpeach) One of the most popular varieties of cherry tomatoes, Sungold ripens early to a golden orange, ready to harvest throughout the summer. These extra-sweet tomatoes stay firmer longer than other cherry varieties and will be ready to harvest twice a week once they begin producing fruit.

#2 Sunrise Bumblebee –Yellow, round cherry tomato with red stripes and pink interior marbling.A gorgeous combination of yellows and reds, inside and out. Excellent sweet and tangy flavor.

#3 Washington Cherry – Notable for its prolific loads of red, meaty, 1-oz fruits. An early and determinate cherry tomato, which thrives both in the garden or a container. Washington Cherry's thick skin resists cracking.
#4 Supersweet 100 is a reliable cherry tomato with prolific yields of great-tasting fruits produced in large clusters.
#5 Gold Nugget among the first to ripen, Gold Nugget attains an unusually rich, sweet flavor when mature. Vigorous and determinate, plants are loaded with ¾ inch, round golden fruit from early in the season until frost.
#6 The Beautiful black cherries look like large, dusky purple-brown grapes; they have that rich flavor that makes black tomatoes famous. Large vines yield very well; very unique and delicious.
#7 Tomatoberry Garden melt-in-your-mouth fruits resemble strawberries in appearance and taste extremely sweet. Juicier than some cherry tomatoes and ideal for snacking. Holds well on the vine and resists cracking. Indeterminate. High-yielding plants.
#8 Big Beef is still unsurpassed as the top choice for fresh market beefsteak tomatoes. Large, avg. 10-12 oz., mostly blemish-free, globe-shaped red fruit. They have full flavor – among the best – and ripen early for their size.
#9 San Marzano this indeterminate heirloom yields large plants with a heavy crop of richly flavored fruit. A traditional paste variety used in most Italian recipes and thought to make the world's finest sauce.
#10 Green Zebra tomatoes are covered in vertical stripes that line the exterior of their vibrant green skin. When ripe the stripes will turn from pale green to a yellow hue. A petite tomato the Green Zebra grows to approximately 2 inches in diameter and has a round, globe-like shape. Resistant to cracking the skin of the Green Zebra is uniformly smooth and covers a green fleshed, juicy interior. Its flesh has a classic tomato flavor and will be tangy and astringent when young then take on a balanced sweet-tart flavor once fully ripe.
#11 Brandywine is a popular beefsteak-sized, Amish tomato that produces rosy pink fruits loaded with an old-fashioned tomato taste that has been prized for decades. It is considered one of the benchmarks for intense tomato flavor. The indeterminate vines are vigorous, so use tall cages. Vines yield tomatoes that ripen gradually until frost.
#12 Cherokee Purple Heirloom. Thought to have been passed down from Native Americans of the Cherokee tribe. This heirloom tomato variety consistently ranks very high in taste tests. Slice Cherokee Purple tomato for rich, dark color and unmatched sweet, rich taste on sandwiches or in salads. The tomato is a beautiful dusky pink with a deep, rich-red interior. This one is a consistent taste test winner at tomato fests around the country. For an heirloom, it is a good producer. Vigorous vines benefit from strong staking or caging.

Herbs and Cucurbits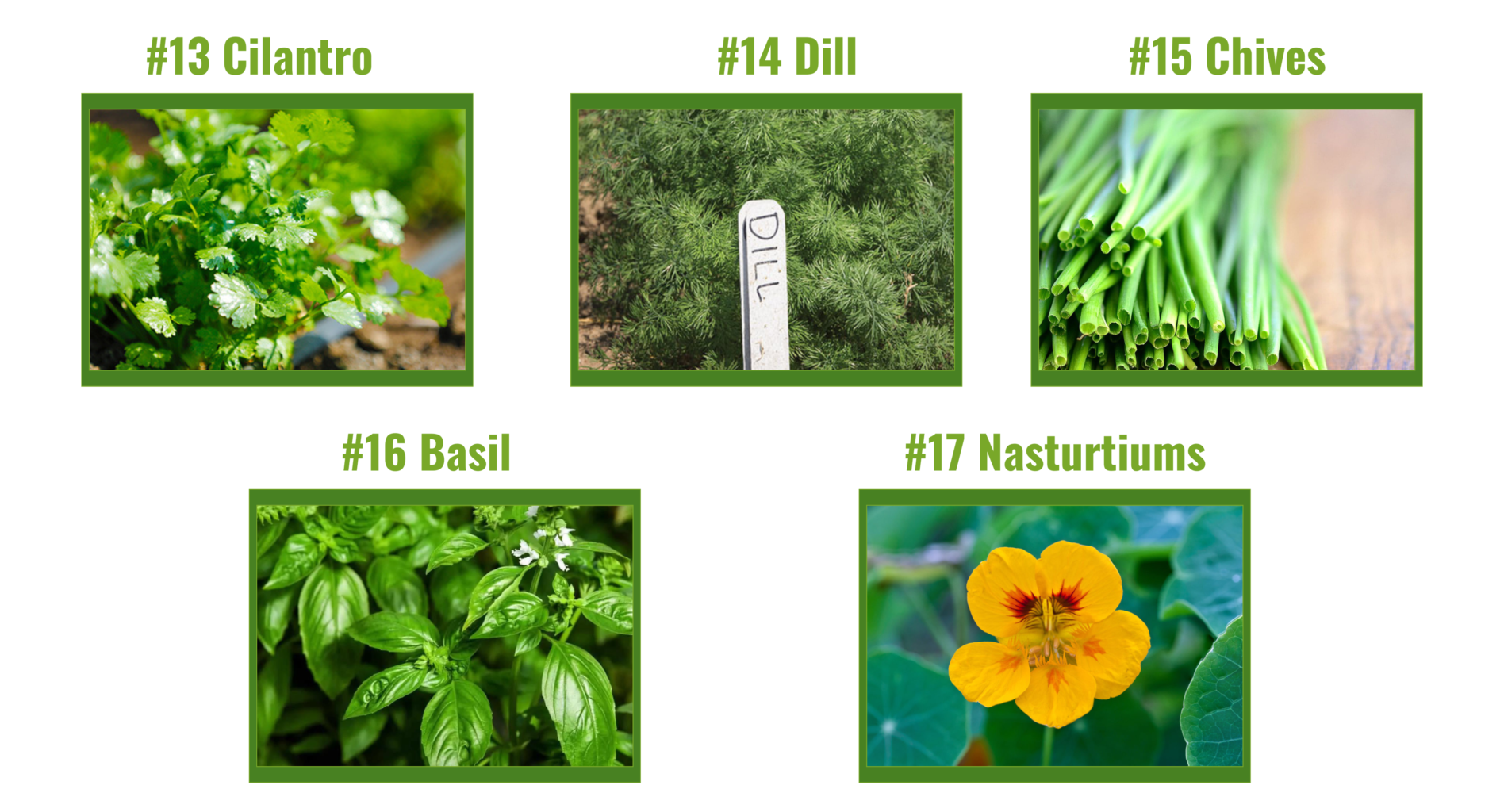 #13 Cilantro is a strong, distinctive-smelling herb that's often used in Mexican and Indian cooking. While cilantro looks very similar to parsley, its flavor is much stronger. Cilantro is also known as coriander, as are its dried seeds.

#14 Dill, Anethum graveolens, is an herbaceous annual in the family Apiaceae is grown for its leaves which are used as a herb.
#15 Chives are incredibly easy to grow, these sun-loving herbs add a mild onion flavor as a topping for salad, potatoes, soups, and more. Left to flower, it produces a very pretty garden bloom with a surprisingly sweet scent and is a favorite of pollinators.
#16 Basil, (Ocimum basilicum), also called sweet basil, is an annual herb of the mint family (Lamiaceae), grown for its aromatic leaves. Basil is likely native to India and is widely grown as a kitchen herb. The leaves are used fresh or dried to flavor meats, fish, salads, and sauces.
#17 Nasturtium is an annual flower that is popular as an introduction to gardening. Salad-savvy adults have probably enjoyed the peppery tang of nasturtium leaves and edible flowers among their greens.


#18 Cucamelons are a unique specialty cucumber. Cute, 1″ long fruits look like miniature watermelons and taste like cucumbers with tangy citrus overtones.
#19 Pickling Cucumbers are vigorous producers of 5-inch long, pickling cucumbers that are solid and crisp, just what it takes to make the best crunchy pickles you've ever tasted. Also suitable for fresh eating.
#20 Salad Cucumbers Long, slender, dark green cucumbers. The slender, refined "Marketmore look" has long been the standard for slicing cucumbers in the North. 8–9″ fruits stay uniformly dark green even under weather stress. Begins bearing late, but picks for a relatively long time. High resistance to scab; intermediate resistance to cucumber mosaic virus, and powdery mildew. USDA Certified Organic.
#21 Zucchini Shiny, finely speckled, dark green fruit is produced in high yields on vigorous plants. The compact plants offer an open habit for an easy harvest of high-quality fruit.
Are your green thumbs now itching to grow your garden? Use this link to place your order by March 29. We'll contact you the week before Memorial Day with the plant pick-up details.
Some young advertisers came up with some catchy marketing phases to get customers excited about this product.
"Just add your own dirt and water. No need to go to the store."

Leah (4th Grade)
"From the cost of one you'll get a ton."

Eli (5th Grade)
We'd love to hear from you. What motivates you to grow your own veggies? Leave a comment below. Follow along on Facebook or Instagram stories for updates and other ways our students put their developing skills to use.