by the Student Spiritual Life Committee
This past week was Spiritual Emphasis Week (or Passion Week) at WSCS. Each day this week we had a Bible story–a dramatic reading video by our staff and youth pastors from the West Side. The book "Peter's First Easter" by Walter Wangerin was used as the inspiration for the dramatic readings. Students were given an opportunity to respond to those stories by doing certain activities that go with the story. We also sang songs and watched songs on a video. (It's a little tricky during the pandemic with certain aspects of SEW!) We also had a chapel on Thursday where we reflected on Jesus' suffering while also looking ahead to Easter and celebrating our Risen Lord!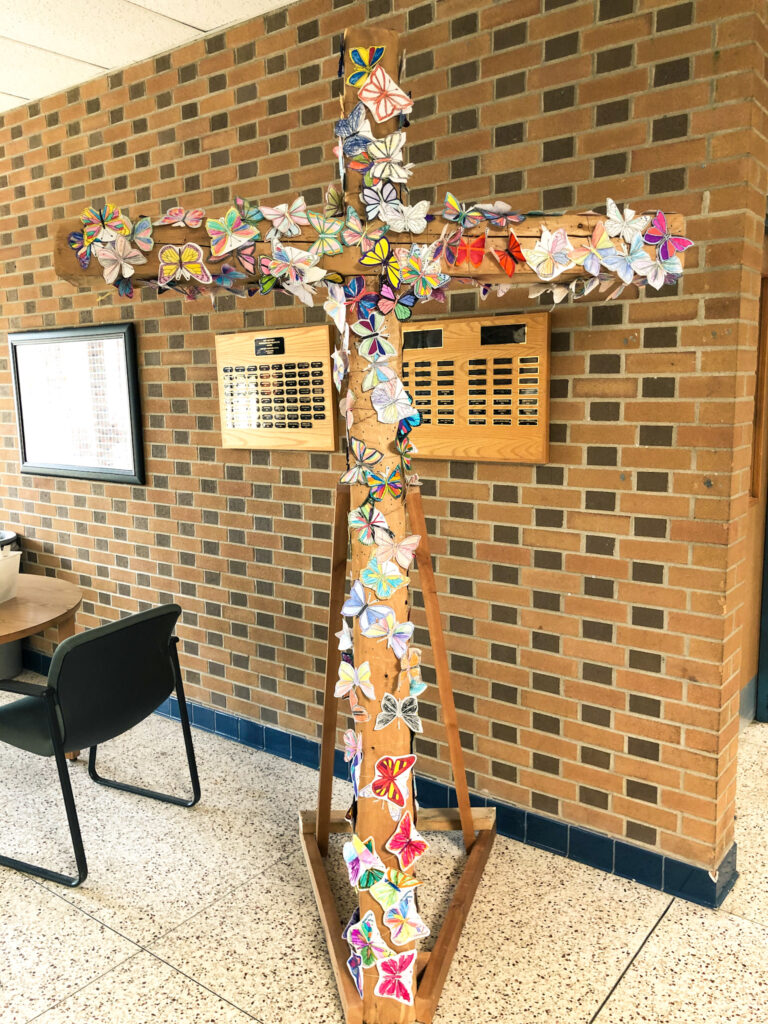 During the week we created an all-school "New Life in Christ Cross Mural" which is on display near the office. Each student colored a butterfly and reflected on the fact that Christ has given us the hope of new life in heaven! Those butterflies were strung around the cross. We know that God used this week to move the hearts of our students and staff. Take a peek below at some of the activities students participated in this past week.

Day 1 – Monday
Setting: Upper Room and the Last Supper
Story: "The Last Supper"
Bible Character: James, brother of John
Dramatic Reading by Brian Myers, youth pastor at Westend CRC
Songs: "Eat This Bread" – sung by WSCS students: Joey Gipson, Mason Elliott, and Trey Verbeek / "What a Beautiful Name"

Day 2 – Tuesday
Setting: Garden of Gethsemane
Story: "On the Mount of Olives"
Bible Character: Peter
Dramatic Reading by Micah Manore, youth pastor at Remembrance Reformed Church
Songs: "Gethsemane" / "Lord, I Need You" / "Is He Worthy"
Day 3 – Wednesday
Setting: Governor's Palace
Story: "At the Governor's Palace"
Bible Character: Pilate
Dramatic Reading by Gord Bylsma
Songs: "What Grace Is This" / "This Is How We Know" / "Raise a Hallelujah"
Day 4 – Thursday
Setting: Golgotha
Story: "Golgotha"
Bible Character: John, the disciple Jesus loved
Dramatic reading by: Heath Brower
Songs: "His Mercy is More" / "At the Cross, Love Ran Red" / "King of Kings"
Our Spiritual Emphasis Week will conclude on Monday, April 12 where we hear from Mary Magdalene at the empty tomb!